Unisex Lucky Wealth Creation Bracelet
Buy 2 Get 15% OFF! (code: 15off)
Buy 2 Get 20% OFF! (code: 20off)
Buy 3 Get 30% Off! (code: 30off)


Attract, Acquire and Preserve Wealth. 
This is the original wealth bracelet featuring Pixiu which is a known symbol of wealth and good luck and one of the most effective spiritual entities when it comes to attracting wealth. The vibration of these crystals attracts fortune and Wealth Luck.
Pixiu, also known as Tianlu, Pixie, Baijie, a total of four names, a kind of mythical animal in ancient Chinese mythology, the dragon head, the horse body, the foot of the foot, shaped like a lion.it can the take away of the evil spirits, bring joy and good luck
As for one of seven treasures in Buddhism, obsidian collects strong power in itself and has been using as a sort of talismans or amulets since ancient times in the past, pressure, fatigue, foul smell and other negative energies.
Wearing bracelets has always been associated with spirituality, occult practice, love and divine protection. The ancient Egyptians were some of the people who religiously carried this kind of objects �but they were more inclined towards stone and precious metals objects �to protect them from malevolent spirits, to gain fertility and to increase love and health.
ONE SIZE FITS ALL - Flexible and Adjusts to all wrist sizes
---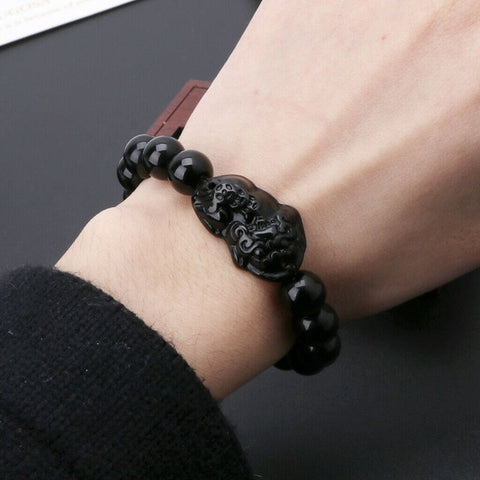 Pi Xiu is especially popular among business people, investors and gamblers in Asia. It is regarded as a dominant attractor of money.

The Pixiu provides a minimum of six blessings as follows:
Conducts good luck and fortune

Generate good Feng Shui or earth luck

Enhances wealth and riches

Protects individuals and building

Protects against evil forces, obstacles, and hardship

Brings unexpected windfall luck
One of the popular ways to retain a Pixiu is to wear it on a bracelet.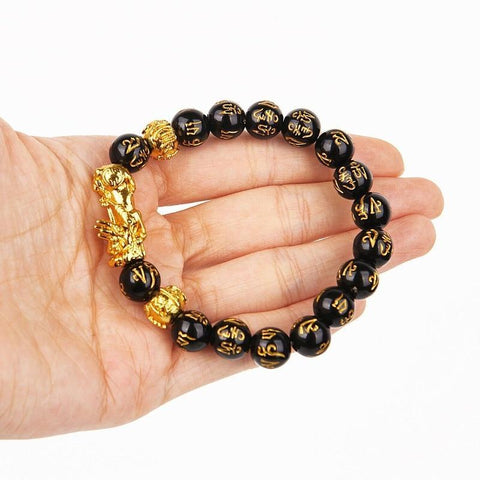 More About this Special Bracelet
What is the Feng Shui Bracelet made of?
The Feng Shui Black Obsidian Bracelet is made of 2 different types of components. Both components are hypoallergenic which makes it suitable for anyone without the fear of allergic reaction.
When does it start to work?
Because Feng Shui varies greatly for each individual, its positive effects may take some time to appear for some people. It also depends on the belief of the wearer in making a positive change. It is recommended to give the bracelet 18 days for it to bring good Feng Shui to the wearer.

**Helpful hint: The More Feng Shui Bracelet You Wear, The Greater The Chance Of Positive Change In Your Life.
Should I wear it on my left hand or right hand?

The Pixiu bracelet is best worn with the left hand, instead of the right hand, because it is believed that if you wear it on the left, it symbolizes attracting good wealth luck and if you wear it on the right, it is giving away your wealth to other people. 

Where should I place it when I am not wearing it?

When you are sleeping, bathing or any other situation that you are not wearing it, you should place it in the living room, with the head facing towards the main door. Do not place it in your bedroom. 
If you find dust when you wear it for a long time, you can wipe it with water or a soft cloth


Main Function: Attract Wealth, Abundance, Ward Off Evil Spirit, Bring Good Luck
Known as a very powerful and creative stone, it increases self-control and forces facing up to one's true self. This releases imbalances and negative energies. 
 
Specifications:
Item Type: Bracelet 

Bead Size: 10mm

Gender: Unisex
 
Get full refund within 60 days.
RETURNING FOR REPLACEMENT AND REFUND
In the very unlikely occurrence that there are damages with your item; we offer a 60-day unconditional money back guarantee.
If the watch is broken you can return it and get full refund within 60 days. You'll have to pay for the shipping cost of the return.
If your timepiece was damaged in the shipping process or you receive the wrong watch please send us a few pictures of the damages within 3 days of receiving to service@yoohal.com – we will be in touch and arrange another to be shipped.
Before returning items to us, please make sure that you contact us first and that you read and follow the instructions below. Please make sure that you understand our return policy and ensure that all criteria are met before physically sending any items back to us.
Note: yoohal.com reserves the right to charge a handling fee on all returned products.
GENERAL RETURNS
1. All products must be returned in their original condition.
2. Mis-shipped products: For mis-shipped items (item received was not item ordered), once confirmed, we will be responsible for an item exchange and any shipping fees. 
3. Color Errors: If the color of the item received is not what was ordered, you are eligible to get another of this item sent to you.
RETURNING FOR REPLACEMENT OR REFUND
Quality Issues:
We will be responsible for an exchange or refund if there are any product quality problems within 60 days of the customers receiving the item. Please make sure to contact us first before returning any item back. Customers may need to send the product back to us, and after confirming that the product has not been damaged on purpose, we will exchange the product.
The Yoohal Pledge
Our Quality Assurance team ensures that every component of every product undergoes rigorous testing for all the criteria we've established. Any product purchased at yoohal.com is automatically registered and covered under our international three-year warranty.
Quality Assurance Processes
From the multitude of parts, large and small, to the finished product, every part of our product has been thoroughly inspected and tested to ensure that it has met all visual and functional tests. We test all components to ensure that they are technically, dimensionally, and aesthetically sound. We subject all our cases to water-resistance and condensation tests. We verify the quality of the hands, dials, straps, and bracelets. We also conduct tests during our casing-up and assembly processes. Once a Yoohal watch is cased up, it's subject to another round of testing, including airtightness, functionality testing, and a microscope-aesthetic test. 
For non-watch products, we will strictly inspect the products in full accordance with the procedures before shipment. 
Additional Warranty Information
Our products are covered by a three-year warranty from the date of original purchase.
*Important note regarding watches: Every automatic watch requires maintenance and the frequency depends on the model, climate, and conditions of use. As a general rule, your automatic watch should have a complete overhaul every 20-24 months. 
Normally, the battery of a quartz watch can last for 2-3 years. When the hands of a quartz watch stop working or the dial with a digital display becomes blurred, you may need to replace the watch with a new battery.
Most smart watches need to be connected to the phone's Bluetooth to perform all functions, and download related mobile phone applications to effectively manage data. Depending on the environment of use, smart watches can be used for 1-7 days. When the battery is exhausted, you need to use the matching charging cable provided by us to charge the device.
Please note that our warranty does not cover:
The consequences of natural disasters, loss or acts of God, theft, or accidents (including shocks, blows, and crushing).
Damage resulting from improper use or mistreatment.
Damage resulting from any tampering with the watch by any party whatsoever other than Yoohal or a center duly authorized by Yoohal. Wear and tear from aging and normal use.
Applications for repair or servicing work that do not include the Warranty Card, a registered watch and a valid serial number on the watch.
Bracelets, crystals, or crowns & stems.
Any damage to the movement or case caused by moisture that may have entered the watch due to improper handling, including, but not limited to, failure to keep the crown tightly closed at all times.
Problems with water resistance and associated consequences if periodic water-resistance tests have not been conducted every two years following the date of purchase. 
Recommended routine overhauls on automatic watches.